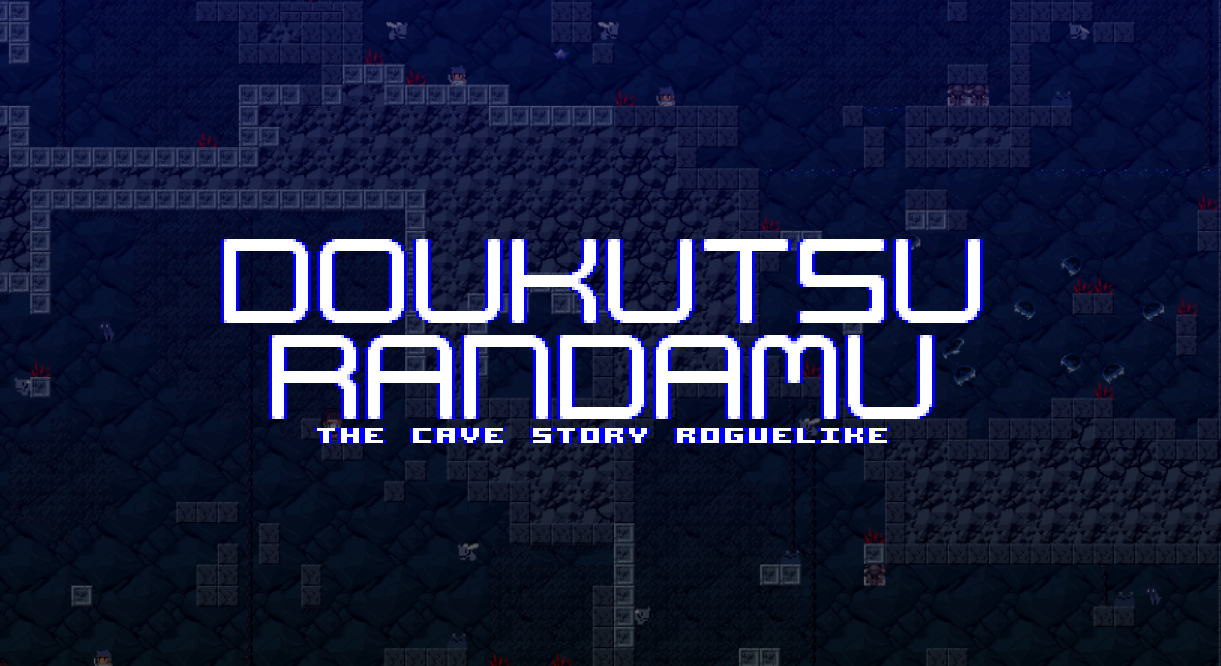 Doukutsu Randamu
A downloadable game for Windows
Experience art style and gameplay of classical indie game Cave Story in brand new procgen environment: each adventure is different and you only have one life for each!
Read readme.txt in archive to get information about configs and custom characters.

Features:
Explore 23 different layouts and settings, each with its own generation and gimmicks! Some of them will show up when you descend deep enough.
There are 10 depths in each run, with 2 levels spawning a boss, and final one featuring the old enemy...
Find many new items that will help you to move faster or destroy enemies quickly! Some of them can be combined with mysterious energy...
64+ Organya-styled tracks, featuring covers and original music to accompany your adventures!
See your improvements for conquering the dungeon with highscore and rankings!
Challenge yourself by selecting difficulty options or taking the path down after beating final boss!
Customize your adventure with seed input and 20 characters! Each one has different movement and combat abilities and new mechanics in some cases.
Advanced settings are available through config.json. Change how much items spawn in the run, try different restrictions or test how fast you can beat the game!
Controls:
Arrow keys to move.
Z to jump/confirm actions.
X to use active weapon/close windows.
A and S to switch weapon to next/last weapon in rotation.
Q to open inventory.
W to open map of the level.
Left Shift to use certain items and delete items in inventory.
Holding Up with Z produces a charged jump.
Numbers to select the weapon.
Credits:
Cave Story: Daisuke "Pixel" Amaya
Based on: CSE2 Enhanced by Clownacy and GabrielTFS
Music: Cory Welch, Tinned Duck, 2dbro, Zenix, txin, mLurker, Alula
Used sprites: ZarroTsu, AsperDev, Tert, Taiki, MintyFresh, Raymundo, lolkat
Coding help: Kaitlyn
Bracket OC: Jamark
Improved Map System: Ikuyo and Onyx
Monogram font: datagoblin
Zlib for C++: Piti118, Deepak Bandyopadhyay, Lutz Kettner, zlib team
JSON decoding: Niels Lohmann and contributors
Update checking: quyse, Mark Lakata and libcurl team
Crossovers: 2dbro and Kim Tyranto
Translation help: Fluffy-Fuwafuwa
Ideas: NethoWarrior, eli, Tert, Taiki, ColdCallerLoopy, Zierin705, eviled, Thyme Warp, duncathan, Daedily, Woddles, rde, CyberSlash, IdioticBaka1824, Ryla
Our discord server: Link
Suggestion box: Link
Modding resource: Link
Download
Install instructions
Extract the archive and run Randamu.exe, nothing is required to install.
Speedrun configs: the archive includes empty splits, layouts and autosplitter script.